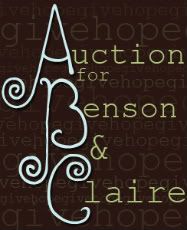 Thinking about buying a Christmas card, birthday invitation or birth announcement? Now is the perfect time! Any digital design in my shop is up for auction to help raise funds to help pay for a Benson and Claire's medical expenses.
Text taken from their auction website
Benson and Claire were born with a rare genetic disease in which their liver produces too much oxalate–called primary hyperoxaluria. Benson and Clarie are part of the Children's Organ Transplant Association (COTA). This non-profit charity helps children in need of life-saving transplants by organizing volunteers to raise funds for transplant-related expenses. All the funds made from the auction will be going directly to COTA. For more information about Benson and Claire go to http://givehopetobensonandclaire.blogspot.com/ and http://cotaforbensonandclaires.com/
Head on over to the auction and place a bid!